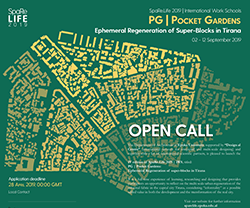 02-12 September 2019, Tirana, Albania
CALL FOR PARTICIPATION
The Department of Architecture at Epoka University is pleased to launch the IV edition of SpaRe.Life 2019 | IWS titled: PG | Pocket Gardens. Ephemeral Regeneration of super-blocks in Tirana
It is a full-time experience of learning, researching and designing that provides participants an opportunity to reflect on the multi-scale urban regeneration of the informal fabric in the capital city Tirana, considering "informality" as a possible added value in both the development and the transformation of the real city, through:
• The practice of Urban Planning and Space Design, of Architectural Design and Technology, of Design for Public Spaces and Facilities;
• The application of the next theories and models of micro/small interventions for the shared urban spaces regeneration;
• The on-field experience and citizens' involvement through the socio-cultural animation of the area and the erection of micro/small outdoors installations.
The application form must be received by 24:00 of 16/06/2019 to the Organizing Secretariat, exclusively by e-mail.
SITdA is Scientific Partner of the event