TECHNE. Journal of Technology for Architecture and Environment
ISSN online: 2239-0243
ANVUR - GEV 08 - Scientific Journal, Class A VQR
TECHNE, the scientific journal of SITdA works, at national and international level, to promote knowledge, methods and techniques of Architectural Technology, to protect and enhance the man-made environment and to promote innovative applications and interdisciplinary comparison.
Since 2011 the journal has published articles, as well as essays and reports, on research results and innovative applications. The authors work in the academic world and in research facilities, in the field of design, industry, entrepreneurship, in facilities of public and private customers.
TECHNE is addressed to users interested both in comparing themselves with competent and critical points of view and in acquiring useful knowledge for the development of projects through a comparison of different approaches.
2020-2023
Editor
FUP (Firenze University Press)
http://www.fupress.com
2018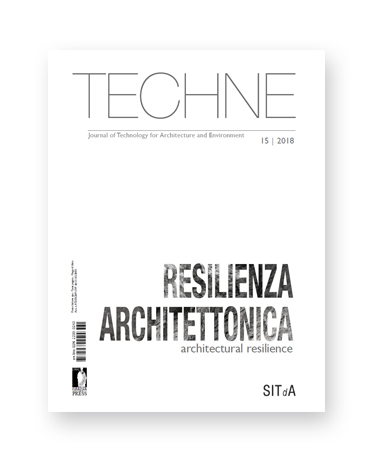 TECHNE n. 15
2017
TECHNE n. 13 TECHNE n. 14

2016
TECHNE n. 11 TECHNE n. 12

2015
TECHNE n. 9 TECHNE n. 10

2014
TECHNE n. 7 TECHNE n. 8
2013
TECHNE n. 5 TECHNE n. 6
2012
TECHNE n. 3 TECHNE n. 4
2011
TECHNE n. 1 TECHNE n. 2